Career Guidance




The content is under construction.
Please refer to Shinjuku Gyoen Gakuin Features in Japanese.
● Class of Examination for Japanese University

Admission for International Students (EJU)

● Career Guidance

● Japanese Manner

● Career Guidance
---
---
Results of university examinations
*Random Order
Graduate Schools
University of Tsukuba, University of Chiba, Tokyo Polytechnic University
Musashino University, Tokyo University of Agriculture and Technology
Josai University, Mejiro University,Toyo University, Nihon University
Universities
Kanda University of International Studies, Takushoku University
Musashino University, Takasaki University of Commerce, Nihon University
Reitaku University , Tokyo Fuji University,
Daito Bunka University, Aoyama Gakuin University
Kokugakuin University, Tokyo University of Science
Japan University of Economics, Toyo University, Keiai University
Tokyo International University, Shonan Institute of Technology
Vocational Colleges
Chuo College of Technology, Tokyo College of Child & Social Welfare,
Sundai Travel&Hotel College SUNDAI College of Business & Foreign Languages,
FujiInternational Business College., Tokyo Multimadea College
The Saeki Nutriotin College, tokyonikken
College of Business and Communication
Nisshobokimitakafukushi Training School, Nippon Engineering College
Nakano School of Business, Tokyo International Business College, Yokohama System Engineering
Nihonkenkoiryosenmon School
Kanagawa College Of Economics, Japan Electronics College
---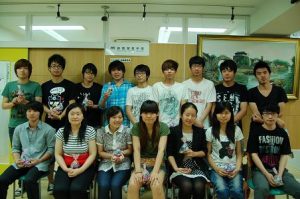 ● Celebration of passing the Japanese-Language Proficiency Test.
---
Recommendations for Universities/college/junior college

Japanese Language School Shinjuku Gyoen Gakuin has a recommendation system that is part of a joint effort with universities and junior colleges all over Japan.